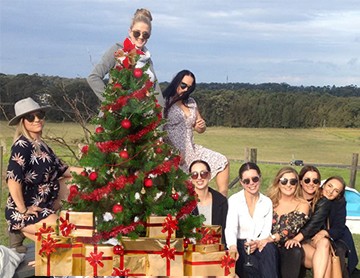 Hamish and the South Coast Journeys Team, would like to take this opportunity to wish all our partners and customers a very Merry Christmas and a Happy New Year!
We hope you all have a restful, safe and successful holiday period and that you are also able to enjoy some time with family and friends.
Thanks to your on going support we now have a 24 passenger seat bus available for all your South Coast transport needs – Sydney Airport / Cruise terminal transfers, South Coast / Southern Highlands Winery and Craft Beer Brewery Tours and Wedding and Event Transport in 2019.
Are still looking for a perfect gift for loved ones?
Why not buy either one of our $50 Christmas Gift Vouchers or a seat on our Christmas South Coast Winery Tour – Public $150 per person (Dates available 05/01/19, 12/01/19 and 19/01/19).