Charter Bookings
Corporate Functions, Bucks or Hens Parties, Pre and end of season team celebrations  and group bookings.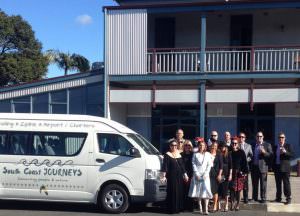 At South Coast Journeys we believe our tours are fun experiences that can be shared with groups of friends, work colleagues and families. We can arrange our tours as charter bookings to suit your next Bucks or Hens Party, end of season team celebrations and corporate team building. On top of this we can arrange your next South Coast Pub Crawl or South Coast Winery Tour.
So if you are looking for something a little bit different for the next group activity you are organising, let us help tailor a tour that you and your friends or colleagues, will not forget in a hurry. Just email us on info@southcoastjourneys.com.au or call 0421 497 604.
Price Guide
Standard Day Charters (9am – 4pm): $500 total
This includes your driver, car refrigerator, (baby seats / trailer as required). More complex or specialised tours and tours travelling 100 + km may be charged at a per person rate or incur a fuel surcharge.
Evening Bus Charter (6pm – 11 pm): $50 per person or minimum of $80 an hour.
Non Standard hours after 11 pm will incur an additional cost of $50 per hour.